Back to all posts
Posted on
ADmazing Coupon Books Now on Sale!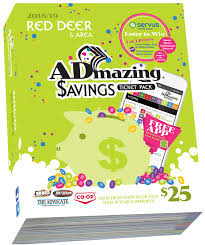 To supplement the cost of busing for athletic teams, Junior High field trips, and leadership opportunities, we are asking each student in grades 6 through 9 to sell a minimum of 2 coupon books to family or friends. Most of the money charged to students playing on athletic teams goes towards league fees, paying officials and tournament entry fees. As well, we are asking grade 6 students heading to camp in June to participated in this ADmazing fundraising to offset busing charges which are not included in the camp fees. 
With each coupon book sold our school receives $10.50 back. Those student who fulfill their 2 coupon book sale commitments will be places in a draw for a prize in November. Each book comes with a complimentary app this year. The mobile app code is located on the inside back cover to reveal the code so that it can be entered and activated. 
Once your child receives their order envelope, simply select your books (Red Deer, Calgary, Edmonton, or southern Alberta) that are being offered for sale, and place the payment in the envelope. (note that all cheques must be made payable to Wolf Creek Public Schools.) Or, parents may pay online through Parent Portal. Parents have the option to purchase books on their child's fee page and can pay via bank debit or credit card. (Make sure to note on the envelope that payment was made online so that we can track the payment.)
Our ADmazing coupon books will be on sale until Friday, October 25th, 2019.
Thanks in advance for helping us with our fundraiser.